Fusion21 Supplier RAAM Construction Provides Apprenticeship Boost thanks to Notting Hill Genesis Contract

Fusion21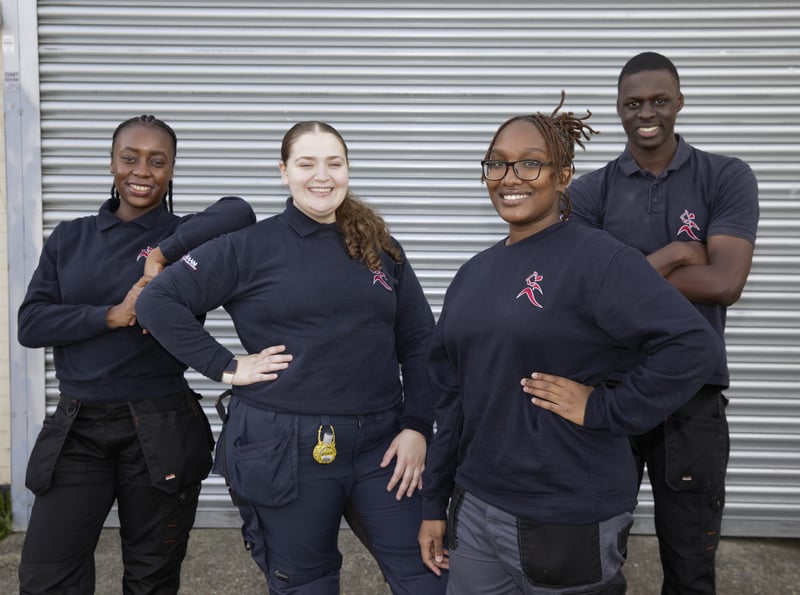 A contract procured through Fusion21 has been responsible for giving 12 individuals aged 18-22 years, a chance to learn a life-long trade with Fusion21 supplier RAAM Construction.
When Fusion21 member Notting Hill Genesis appointed the company to carry out a 12-month fire safety repair and improvement programme, it was agreed social value delivery should be maximised.
The contract has achieved a measurable social impact with:
6 apprenticeships created and
6 apprenticeships sustained
The apprentices are split across the electrical department and block inspection team responsible for fire safety compliance.
Meet the Electrical Apprentices:
Riyan, Jonathan, Jasmine, and Courtney are expanding upon their skills and knowledge studying for their Level 3 Electrotech Apprenticeship Qualification; and Riyan and Jermaine are developing a specialism in fire alarm related works.
Shayah joined the company 2 years ago and has since achieved a huge personal milestone, achieving his dream of qualifying as an Electrical Engineer. He is now being supported as he continues to develop his career working as a valued member of the RAAM team.
Commenting on her apprenticeship which has been sustained, 19-year-old Courtney Kushure said: "I have enjoyed every minute and absolutely love it here at RAAM. Being young and coming straight from school, RAAM has been like a second home. Everyone is very supportive and helpful, and I have become part of the team.
"RAAM has given me many transferable life skills, skills that simply cannot be taught from a textbook. My apprenticeship and placement here, together with my college course is well structured and has provided me with all the practical and academic experience needed to kickstart my career in Electrics. I cannot wait to see what my future with RAAM holds."
Meet the Block Inspection Team Apprentices:
Learning the ropes as surveyors on block inspections by carrying out surveys and learning how to meet client deadlines has been a learning curve for Kevin, Connor, and Stuart – who has since moved on to a more office-based role within the admin team to help ensure surveys are completed efficiently.
Yunus, Yasin, and Justin have all had their apprenticeships sustained and they continue to learn and develop their skills as valued team members.
Marcin Kolodziejcyk, Managing Director at RAAM Construction said: "Apprenticeships provide that first step onto the career ladder, helping to develop skilled workers for the future while providing valuable on-the-job training and knowledge to complement studies. As a company, we're so proud of our apprentices and the social impact we've achieved through this contract. Our learners always amaze us with their fresh ideas, dedication, and eagerness to help our company innovate and grow."