Motorcyclist who had to "learn how to walk again" after career-ending accident given new start by Fusion21 supplier PH Jones

Fusion21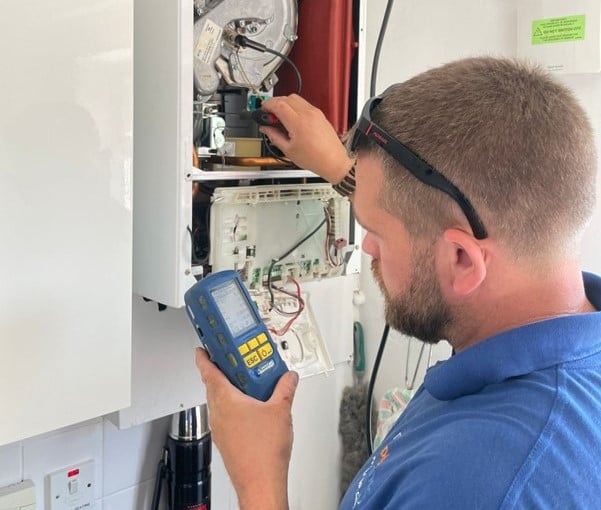 A pipefitter who had to "learn how to walk again" after being thrown from his motorcycle in a career-ending accident has been given a fresh start by Fusion21 supplier PH Jones as part of its social value activity delivered as a result of working with us.
A father of two children, Robert King, 38, from Shepshed, Leicestershire was left with life-changing injuries after a road accident involving a car and his motorbike in 2018 - leaving his career as a self-employed pipefitter in tatters.
But he has been given a new start by PH Jones which are currently providing Fusion21 member Charnwood Borough Council with a three-year service and repair contract procured through our Heating and Renewables Framework.
PH Jones deliver service, repair and installation services to over 181,000 homes across the UK for over 60 social housing providers.
And because of the contract he has been taken on as an Improver – retraining to be a service and repair gas engineer.
His multiple injuries included breaks to both his ankles with one foot in Robert's words "smashed to pieces".
He was wheelchair-bound for five months and the former "fitness fanatic" and keen marathon runner was off work for two and half years, spending 12 months undergoing physio.
Even now he suffers with arthritis in both ankles and Robert said he is thankful to be able to return to employment with PH Jones.
Robert said: "I basically had to learn to walk again. PH Jones have been excellent; they do listen and consider what I have been through and there is a lot of support."
As well as carrying out jobs such as radiator maintenance Robert shadows gas qualified engineers and attends training centre sessions as he works towards gas qualifications to fully qualify.
PH Jones define an Improver as someone who already holds some qualifications relevant to a role but not all.
Bid and Corporate Social Responsibility Manager, Amy Holbrook said: "At PH Jones, we encourage our people to bring their whole selves to work, offering support and flexibility to suit their circumstances.
"We are delighted to provide local training to help Robert attain his Gas Safe certification, whilst continuing to work on our contract with Charnwood Borough Council."
To help Robert, PH Jones provide additional monitoring and mentoring, ensure he is supported physically, with flexibility in his diary to allow enough rest and tailor jobs to his physical ability.
When procuring through Fusion21 our members are supported to achieve visible social value targets on every project, from work placements and apprenticeships to tackling unemployment and delivering activities that benefit communities.