Early education is the key to inspiring more women to consider a career in construction

Fusion21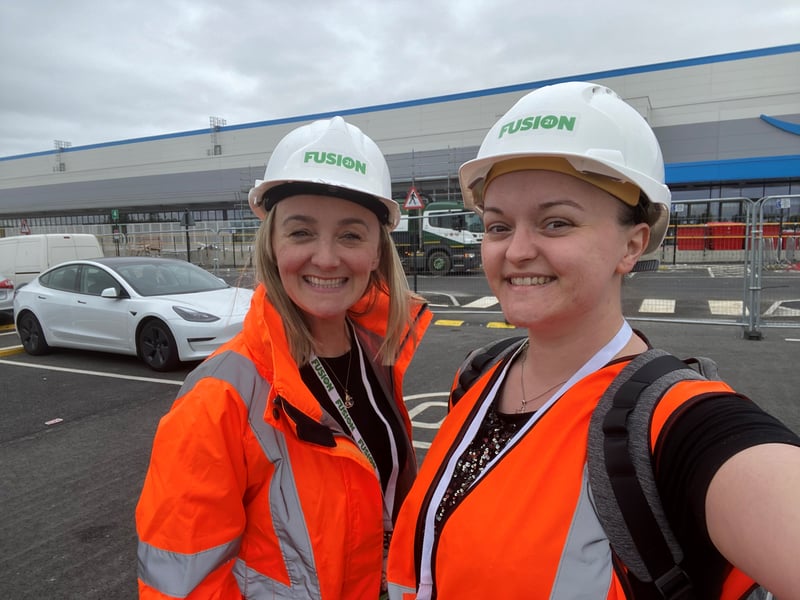 A regular visitor to construction sites for us, Clare Connolly believes early education could help to inspire more women to become "Beth the Builder".
Going out to construction sites is an essential part of the job for Clare Connolly.
As Social Value Co-ordinator here at Fusion21, she believes early education is the key to inspiring more women to consider a career in the industry.
Clare, 33, regularly visits male-dominated construction sites to ensure social value is embedded into projects.
She supports firms to deliver on recruitment and community commitments they've signed up to, such as apprenticeships, work placements, and voluntary work, which help the local economy.
Clare started her career as an estate agent, visiting existing buildings, new build properties and student homes developments on new construction sites. Her other roles in the industry were office manager and administrator positions helping to manage multiple sites, construction and maintenance jobs.
She said: "I've worked in the construction industry most of my working life, I love the variety of my job currently and seeing the impact we're making on people's lives in our local communities.
"The barrier is understanding how to get into the field. Early education is absolutely the key point, from the age of four or five upwards. Why can Bob the Builder not be Beth the Builder? And at secondary school, when girls get the option to take on courses, we should be encouraging them to consider some of the more traditionally male focused courses such as DIY and woodwork.
"Young girls need to hear why women who work on construction sites or female plumbers and decorators love their jobs and the many opportunities that are available to work in the industry. Women aren't just admin. They are also brilliant quantity surveyors, contract managers, site developers. Having a relatable person is so important."
Her comments come following Women in Construction Week (6-12 March) which celebrates women for their hard work and dedication to their craft.
According to latest figures by the Office for National Statistics (ONS), women in the UK construction industry currently only accounts for 15 per cent of the workforce, but is expected to continue to grow in the coming years.
The week highlighted the growing number of women who are making a significant impact in the industry, and Clare praised the positive support from us for women in construction.
She said: "Fusion21 encourage all suppliers and partners to have women attend construction career talks and events to help showcase the opportunities there are for young females. We work with so many sites across the UK and when new jobs become available, we send them to our partners to help get them recruited.
"They value you and are really eager to give you the chance to shine, whether that's presenting at webinars, conferences or pushing me to do my CSCS card or leadership courses, which all go towards making me a better leader.
"When I'm on site most of the men I meet are friendly and so welcoming. They offer you a cuppa and are happy to sit down and talk about what they need to do in terms of social value. They really support women in construction and what we're trying to do. Once you realise they're just people who really want to help, there isn't this barrier that sometimes people assume there is."
We work with housing, local authority, education, blue light and health sector organisations to help them with their procurement and focus on maximising social value in contracts.
Sarah Maguire, Social Value Manager at Fusion21, added: "At a time when the industry is facing challenges with workforce shortages and skills, it's massively important to encourage more women into the industry.
"Hearing the perspectives and first hand experiences of women like Clare will help to inspire the next generation of females to consider jobs in construction, which will ultimately create a more diverse and inclusive industry.
"We're committed to promoting a workplace culture that values and supports women in construction, and have a successful track record supporting local authorities, developers, and contractors to drive social value, education, and employment opportunities in the industry."
To date, we have created more than 9,600 employment outcomes and generated more than £136m in social impact.