Fusion21 and its partners spring into action to help apprentice after placement falls through

Fusion21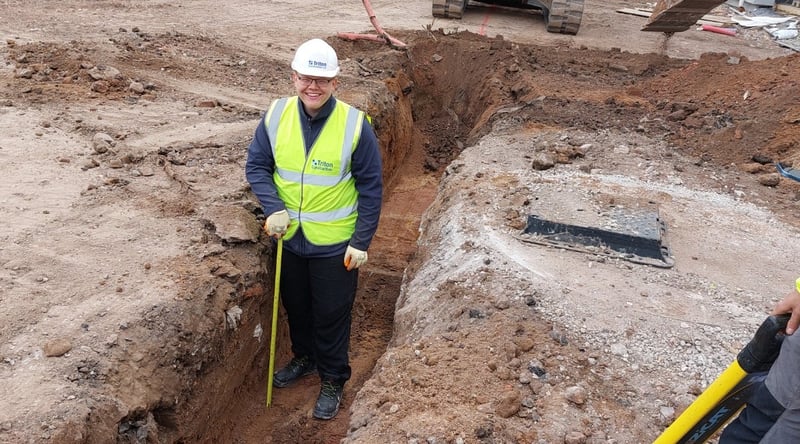 An apprentice was offered a second chance to get invaluable hands-on training thanks to national social enterprise Fusion21 and its partners.
Callum Powell, 23, from St Helens found himself without a placement after a previous employer was forced to temporarily close amid the covid pandemic.
But after hearing this, youth charity The Prince's Trust - who was supporting Callum through its Team personal development programme reached out to the procurement and social value experts to secure an alternative in the construction sector.
Fusion21 – based in Knowsley, Merseyside, approached Triton Construction Limited which is currently delivering the 'Knowsley Hub' - a 50,000 sq. ft trade counter scheme on Knowsley Industrial Estate in Kirkby, comprising seven units - on behalf of developer Redsun Projects.
Fusion21 has been supporting Triton to successfully deliver social value targets on the site after planning permission was secured with Knowsley Council, and the contractor stepped in to offer Callum a week-long work placement.
The request for help was agreed with Site Manager Sean Millican, with the 33-year-old from Maghull himself a 'graduate' of The Prince's Trust Programme and fully aware of just how invaluable their employment help is for young people.
Callum helped with everyday tasks and manual labour showing a strong work ethic and willingness to learn that didn't go unnoticed by the team. He said: "Fusion21 was extremely helpful during my placement programme, and I had several conversations with them regarding my career goals and employability."
Site Manager, Sean commented: "Callum was brilliant from start to finish; he worked incredibly hard on all duties, and it was great to see his confidence grow throughout his time with us."
Sean himself was highly commended by the Prince's Trust in its Young Achiever of the Year award in 2013 after completing a programme with them in 2012 and making positive changes in his life.
Sean added: "At Triton, we're keen to ensure we uphold our social responsibility and give back. It was a pleasure to help Callum, if it wasn't for Prince's Trust, I wouldn't be where I am today. At the age of 22, I didn't have a job or path to follow, and I found myself in trouble a few times – the trust helped me onto a 12 Week Programme to develop skills and gain knowledge and I was also supported to undertake an apprenticeship."
Callum is now studying employability and functional skills at the Learning Foundry College in Liverpool city centre, putting the skills and knowledge he gained from his placement and experience with Prince's Trust to good use.
Commenting on Callum's success, Stephanie Bond Team Leader at The Prince's Trust added: "It was great Fusion21 could help Callum when we got in touch when one of his placements fell through. The work we do with Fusion21 includes helping young people who come to us wanting work. We help them find the right opportunity to get their foot on the career ladder."