Fusion21 Contractors Boost Social Value with Positive Footprints

Fusion21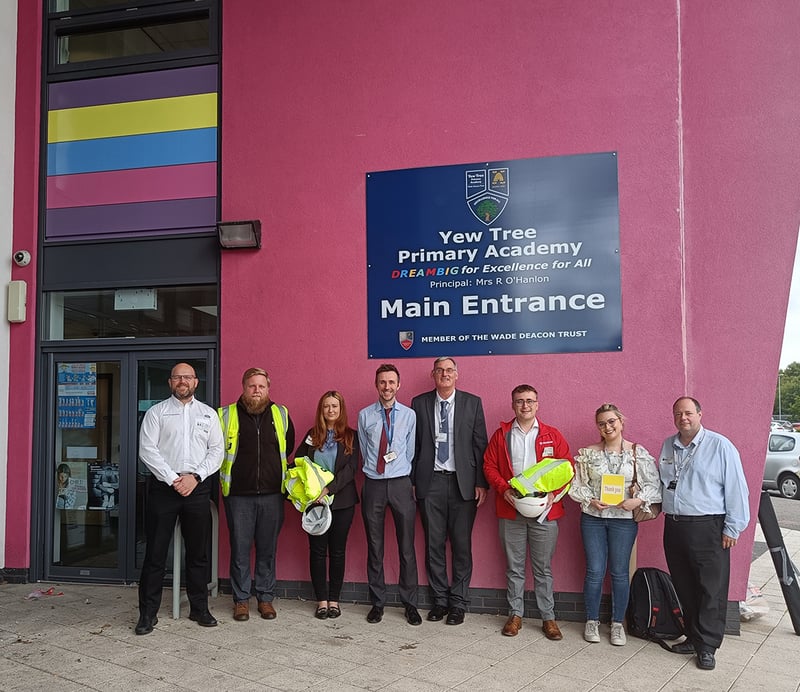 Fusion21 has teamed up with Positive Footprints, a charitable organisation raising the aspirations of school children across the UK, to deliver a 'Career Carousel' event for 30 children at Yew Tree Primary School in Knowsley, Merseyside.
Research shows that many children have already ruled out certain careers by age 7 due to a lack of role models in their daily lives. Through its Raising Aspirations programme, Positive Footprints aims to address this by helping children recognise the skills and qualities they possess and where they could lead them.
Career carousels form an important part of this programme. These events bring careers into the classroom and aim to instil children with the belief that they too could do similar jobs when they grow up. The pupils get the opportunity to speak to all the businesses at the event and ask questions about their roles and skills.
Several Fusion21 contractors working in Knowsley were keen to create social value for the local community, and joined forces with Positive Footprints to deliver a special Career Carousel for pupils focusing on careers in construction and maintenance.
GMI Construction, Jaguar Land Rover, M&Y Maintenance and Construction, Merseytravel and Redrow all supported the event.
Lesley Burrows, Founder and Managing Director of Positive Footprints said: "Bringing careers into the classroom is an integral part of our Raising Aspirations programme and we couldn't do that without the support of organisations like Fusion21 and its contractors. The pupils love meeting businesses and it has such a positive impact on their futures. It's a win-win for businesses as a straightforward, measurable way to generate social value that staff love to be involved in!"
Fusion21 continues to work in partnership with Knowsley Council to ensure that everyone in the borough is positively impacted when major investment is secured.
This ranges from educational activities and talks like the career carousel, to apprenticeships and employment opportunities.
Sarah Maguire, Social Value Manager at Fusion21 said: "As a social enterprise, Fusion21 is proud to work in partnership with Knowsley Council, ensuring developers and contractors prioritise and deliver social value activities locally, benefiting residents of all ages across the borough.
"Events like this are at the heart of what we do. We want to empower our members and contractors to deliver real on-the-ground impact and make a difference in the communities they serve."
Sarah added: "Having construction and maintenance contractors (here today) not only helps raise the aspirations of young people, particularly girls and those under-represented in these sectors but it's also a great way for businesses to engage with schools and boost their social value commitments."
For more information about how businesses can get involved in the Raising Aspirations programme please click here.
For further information about how Fusion21 can support public sector organisations, developers and contractors to make a measurable impact on local communities and meet social value targets on every project, click here.