Fusion21 Foundation Co-Funds New 'Learning Kitchen' with The Guinness Partnership

Fusion21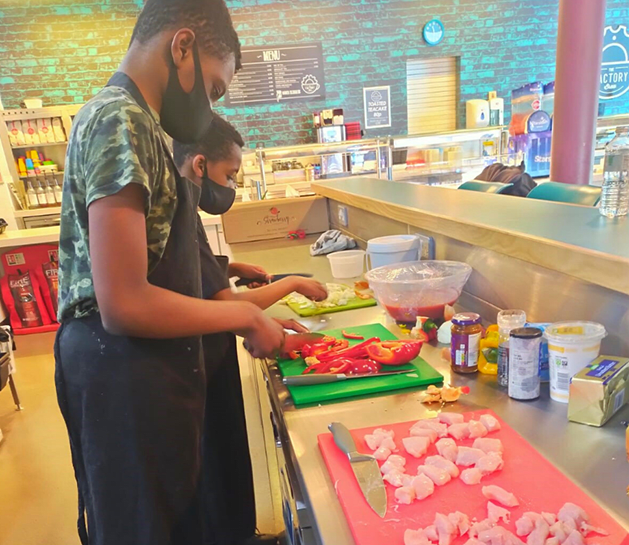 Located in North Manchester, children's charity Manchester Youth Zone has built and created a 'Learning Kitchen,' supporting young people to develop employability skills and improve wellbeing.
Read how the Fusion21 Foundation co-funded this initiative alongside Fusion21 member The Guinness Partnership – and learn how the facility adapted its services throughout the Covid-19 pandemic.
The Beneficiary
Children's charity, Manchester Youth Zone (MYZ), works with some of North Manchester's most vulnerable young people. Part of the Onside Network of Youth Zones – and based in the disadvantaged area of Harpurhey, MYZ offers a safe place to enjoy positive activities and meet with youth workers.
Its ultimate aim is to help young people lead healthier and happier lives. Below we explain how investment from the Fusion21 Foundation is helping to achieve this.
The Proposal
Brought to our attention by Fusion21 member and housing association The Guinness Partnership, MYZ wanted to create a youth facility focused on enhancing employability and wellbeing.
To achieve this, the youth zone requested funding to:
Build a fully equipped high-quality training kitchen
The 'Learning Kitchen' project aimed to develop enterprise initiatives, while exploring healthy eating and tackling food poverty.
The Challenge
The initiative was created to help tackle issues of unemployment and a lack aspiration – which can be challenging in Harpurhey. Keep reading to discover how the Fusion21 Foundation and The Guinness Partnership helped to make MYZ's dream a reality.
The Support Received
Following a robust proposal and approval process:
The Fusion21 Foundation invested £24,000 into the Learning Kitchen project
Fusion21 member, The Guinness Partnership, has also provided £24,000 in match funding
The Project
With the build taking place over a number of months, in March 2020, the brand-new Learning Kitchen facility was complete.
The facility was designed and ready to help young people:
Learn how to cook
Develop a range of transferable skills
Explore creativity and enterprise potential
Help develop employment skills
Obtain accreditations to develop CV's
Establish independent healthy eating routines
Discuss self-respect and wellbeing
However, the COVID-19 pandemic hit and so project plans were altered to realign with restrictions.
During this time the facility was used to pack 'MYzone' boxes for families experiencing financial hardship. These boxes were MYZ's own take on 'Hello Fresh' and included recipes and ingredients to get the whole family cooking.
The kitchen was also used to host online Zoom cooking sessions, before moving to 1-1 sessions when restrictions eased. Now the facility is being utilised to its full potential.
Working with partner organisations whose values and ambitions align with ours, we can achieve incredible outcomes for local communities.
Alistair Smyth, Director of External Affairs and Social Investment at The Guinness Partnership said:
"Far too often we hear about the challenges young people face, with the lack of opportunities and role models, something that has further escalated since the pandemic hit. It's initiatives like the Learning Kitchen that bridge the gap between education and work, providing young people with a safe place to access opportunities that raise aspirations in a fun and supportive way whilst building skills and confidence levels.
"We're proud to be part of the Learning Kitchen benefiting hundreds of young people in Harpurhey and beyond and we are excited to continue building this successful partnership."
Let's take a look at how MYZ and its young people have benefitted from this co-funded partnership.
The Results
Funding from both the Fusion21 Foundation and the Guinness Partnership has resulted in the development of a fully equipped high-quality training kitchen.
The Learning Kitchen has enabled MYZ to work directly with families, teaching them how to make affordable meals and source cost-effective ingredients. Young people have also been supported to develop vital employment skills.
Project outcomes to date include:
100+ young people have spent time in the kitchen
12,000 free meals issued to families identified by multi-agency work
80 families provided with recipes and ingredients throughout the pandemic, and during school holidays ongoing
900 live zoom sessions – including cookery
A What's Cooking event led by young people, when MYZ reopened its doors
Breaking the ice between people and starting to develop bonds
A long-term legacy project, benefiting young people and the community
Commenting on the initiative, Mark Chadwick, Director of Business Services at Fusion21 said:
"The Fusion21 Foundation chooses to invest in projects that can make the biggest difference to beneficiaries. The Learning Kitchen provides a creative space to develop confidence, whilst learning vital cookery skills that not only enhances health and wellbeing but also builds on transferable skills to aid future employment opportunities.
"MYZ has worked tirelessly, successfully running a flexible programme in really challenging times and we know this facility will continue to be a popular resource in the community for years to come."
The Feedback
We got in touch with MYZ to ask what the team thought about the support they received from the Fusion21 Foundation and the Guinness Partnership. Here's what Amanda Naylor, CEO at Manchester Youth Zone said:
"The support and funding we have received from the Fusion21 Foundation and The Guinness Partnership has been incredible and we are delighted to showcase our newest space, the Learning Kitchen.
"This is a safe place where young people can thrive, from boosting employability skills to exploring enterprise initiatives and focusing on improving health and wellbeing. The success of this facility through a challenging period speaks volumes, and now with restrictions lifted, we can't wait to see it used to its full potential."
Are you a Fusion21 member seeking investment to build help brighter futures for local communities? To find out how we could make your social impact more accessible, call us on 0845 308 2321 or email us at info@fusion21.co.uk.