Fusion21 Foundation helps fight food poverty

Fusion21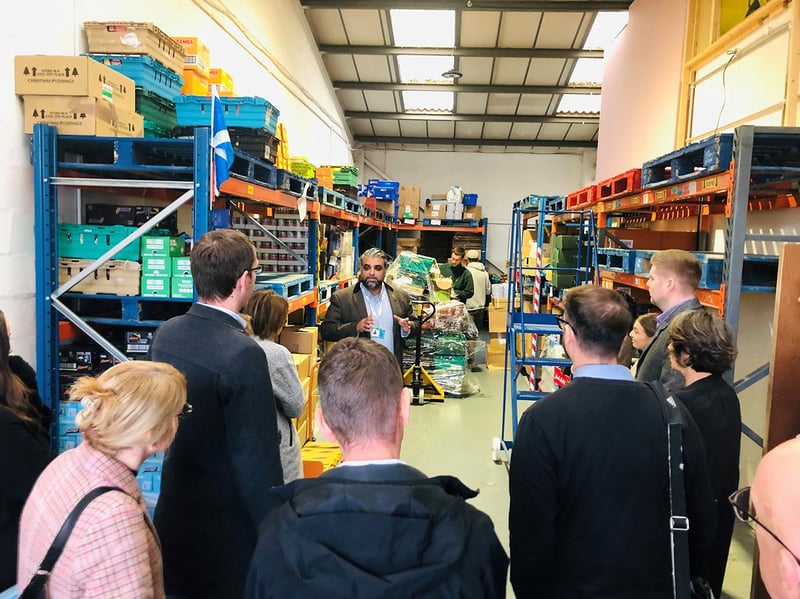 Generous businesses teamed up with charities fighting food poverty in an innovative project part-funded by the Fusion21 Foundation.
Business In The Community's Tackling Food Insecurity in the UK Project saw the East Midlands businesses volunteer their specialist skills to support the sustainability of local community food organisations, including help with marketing and business planning.
The £100,000 project aimed to tackle food insecurity in the region by partnering businesses with charitable organisations.
A registered charity, Fusion21 Foundation's areas of focus include Health and Wellbeing and we pledged £50,000 towards the 18-month project which ran until September 2022 but aims to have a continued impact.
Organisations benefiting included Hope Nottingham – a Christian charity which supports food banks across the city and directs people to life-changing support.
Business support included Nottinghamshire Surveyors providing free drone footage of an outer building as part of a building survey and Nottingham Trent University students devised improved food bank recipe cards.
Another beneficiary of the project was Himmah whose work includes providing foodbank support, hot meals and the Nottingham's Peoples Pantry offering subsidised food through a click and collect or home delivery service.
Its support included a donation of laptops from the RSPB and a masterclass from law firm Shoosmiths whose HR training focused on wellbeing, communication, and resilience.
Northamptonshire Action with Communities in Rural England (ACRE) which works to reduce isolation and vulnerability and make life more affordable for those living in rural areas was another charity to benefit.
Its support included a productive and continuing partnership with Pfizer, one of the world's premier biopharmaceutical companies, who assisted in developing leadership, sustainability, marketing, and business planning strategies aimed at bolstering the Northamptonshire Sustainable Food Network
And Northampton Hope Centre, an anti-poverty charity which provides access to high quality, healthy food and works to improve the lives of anyone affected by poverty and exclusion also benefitted from the project.
This included mechanical, electrical and telecom engineering experts VVB give a masterclass on performance management and advice around measuring social impact. Nottingham University business students also shared marketing and fundraising strategies and volunteers from digital services and printing solutions company Ricoh UK cooked lunch for 150 homeless people on the third Tuesday of each month.
The project was designed to seed new holistic community food ideas and wide business planning support including strategy development, fundraising, HR, finance, marketing, logistics, digital advice, monitoring and evaluation.
And a BITC report concluded that the project established impactful long-term partnerships between community organisations and businesses. Key support in terms of staff wellbeing, improved fundraising and better branding all helped to improve the sustainability of the community groups and increased their ability to tackle the root causes of food poverty.
The Fusion21 Foundation was set up in 2015 and has given over £1.2 million in grants and has committed £2 million in social investment.
Jo Hannan, Fusion21 Foundation Manager, said: "We're delighted to have supported such a wonderful project which has and will continue to make a huge difference to organisations who are working in communities, fighting against food poverty."