Fusion21 Foundations Co-Funds New Hackney Family Centre and Baby Bank

Fusion21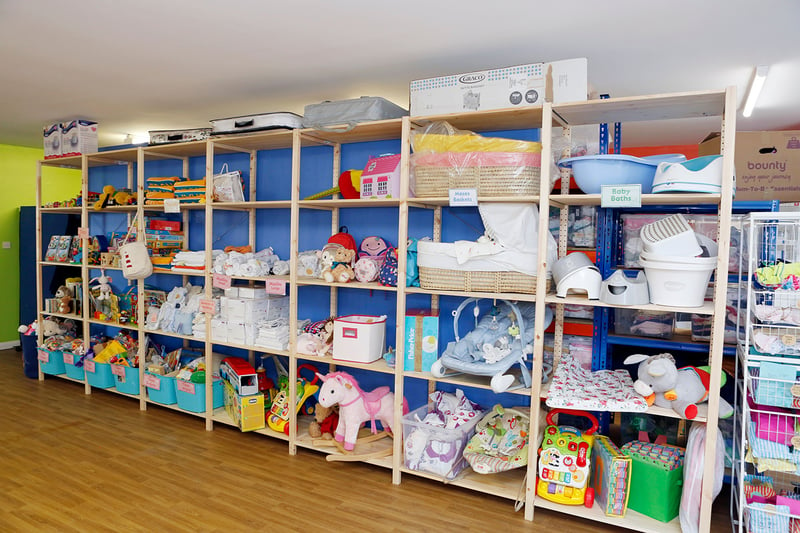 Housing Association, The Guinness Partnership, in partnership with Fusion21 Foundation, Sal's Shoes, Boiler House and Little Village have officially opened a new family centre in Hackney, East London.
Provided by The Guinness Partnership, the formerly unused building off Harrington Hill in Lower Clapton, has been refurbished to become a welcoming, vibrant family centre, providing baby bank services to help local families with young children.

The baby bank operates like a food bank but supplies children's equipment and provides essentials for babies and young children, including items like clothes, shoes, cots, nappies, toiletries, buggies, and toys to families needing extra support.

It will help local families with children aged up to five. Parents who visit will also be able to find details of where to find further support.

The baby bank will be run by three local charities: Little Village which runs a network of baby banks across London; Boiler House Spaces which manages community spaces in Hackney; and Sal's Shoes, which provides good quality second-hand shoes and other essentials to those who need them.
Jo Hannan, Fusion21 Foundation Manager said: "We're delighted to be a co-funder of this important initiative, at a critical time in the cost-of-living crisis. Our Foundation's focus is on improving the lives of those who need it most, supporting the health and financial wellbeing of local communities. This project has been created by a fantastic partnership of organisations, dedicated to making a positive impact - providing much-needed essentials and support for families in Hackney."

Alistair Smyth, The Guinness Partnership's Director of External Affairs and Social Investment, said: "I would like to thank everyone who came along to support this much-needed family centre, which will help more and more families who are struggling financially right now. They're faced with really difficult choices about what to spend and how, or if, they can make money go further. And we're talking about essentials here – housing, food, energy, clothes – the basics all families need.
"The cost of living crisis means the Baby Bank, Sal's Shoes and all other services provided at The Boiler House are likely to be needed more than ever, and by even more families over coming weeks and months. It's vital the baby bank receives support from the community and we'd encourage people to get involved however they can – whether that's by donating, volunteering, or helping spread the word about the Baby Bank, so it can reach the people who will need it the most."
Sophie Livingstone MBE, CEO of Little Village, added:
"It's incredibly sad that there is such need for a new baby bank in Hackney, that there are so many families who are unable to provide the basics for their babies and young children. But whilst there is a need, we will do all we can to help. We are looking for lots of support so if you would like to donate your pre-loved children's items, or volunteer to help out, please get in touch."
Anna Iskander-Reynolds, CEO of Boiler House, commented: "The Pandemic highlighted existing poverty, and now as the cost of living increases, we are seeing greater support needs. It's hard enough being a parent or carer without the financial burdens and impossible choices you have to make in order to survive the week. We want to support families through such times and ease their burden. The new Family Centre will not only provide access to a wide range of essential childcare items, it will also offer a nurturing space for families to gain further support, build relationships, and feel more able to move through current challenges."

CJ Bowry, Founder of Sal's Shoes, said: "In the current economic climate, a lot of families, who are struggling with the rising costs of energy bills, fuel and food simply cannot find the money to meet their kids' needs, once their housing costs are met. Ill-fitting or worn-out footwear can cause physical damage to young feet, and it is our aim to provide good quality shoes to the children who most need them, to make sure that those living in poverty feel no different to their peers. A family's financial situation should never result in a loss of dignity."

Why it's needed

About 48 per cent of children in Hackney live in poverty according to figures compiled by Trust for London, way above the London average. It also has one of the highest rates of households in temporary accommodation, with 28 households per 1,000.

How local people can help

Donations of good quality clothing and kit are welcome every Monday from 10am-12pm. Details on what items can be accepted can be found on the Little Village website www.littlevillagehq.org/donate-stuff/
Volunteers will be needed to run the project Monday to Wednesday each week, with full training provided. A creche will be provided on Mondays, enabling volunteers with young children to get involved.

Families with children under 5 needing support from the baby bank can ask a professional, like a midwife, health visitor, or social worker to refer them.