Join us at Homes 2023!

Fusion21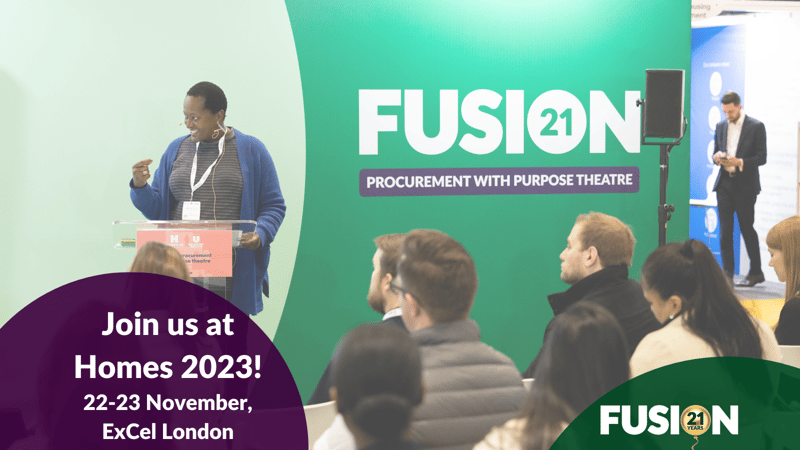 This year, we return to Homes UK on 22-23 November at ExCel London, offering two days of seminar content delivered by a range of highly regarded thought leaders in the sector.
As Fusion21 members, we're offering you free tickets to attend as our guest. Sign up here for yours.
See our full seminar programme below.
Wednesday 22 November sessions:
Time
Session
Speakers
9:45-10:30

Procurement's role in delivering sustainability: staying on track for carbon net zero

Building sustainability into your procurement is crucial in order to meet the 2050 net zero target. It can add value to your organisation by future proofing against compliance issues, supply chain risk and decrease costs. Yet it can be complex to implement especially in the face of budget constraints and competing priorities.

This session will explore how to implement sustainable procurement and overcome common obstacles.

Chair: Paul Towers, Fusion21

Michael Brown, Michael Dyson Associates
Emma Briggs, Metropolitan Thames Valley Housing
Matt Hickman, VINCI Facilities

10:45-11:30

How to meaningfully engage tenants in procurement

This session will look at how housing staff and procurement teams can support tenants to share their valuable insights and experiences and work to co-design services and contracts that deliver value for money.

Chair: Peter Francis Fusion21

Julie Butterworth, Tpas
Yaw Boateng, Croydon Tenants and Leaseholders Panel
Verna Francis, London Borough of Croydon
Jon Upchurch, Red Kite Community Housing

11:45-12:30

Preparing for Procurement Reform

With widespread changes under the new Procurement Act likely to commence in late 2023 or early 2024, this session will help you to gain clarity on how (and when) it will work in practice and what housing associations can do to get ahead.

As well as considering the operational detail of implementation, panellists will look at opportunities for future improvement and innovation.

How are housing organisations adapting to ensure compliance? What questions remain and will there be flexibility in the new requirements?

Chair: Duncan Spokes, Fusion21

Rebecca Rees, Trowers & Hamlins

Emily Powell, Hugh James

Helen Marsh, The Riverside Group

Sharon Phillips, Welsh Government

Ursula Tebbet-Duffin, The Cabinet Office

12:45-13:30

Procuring with purpose and delivering social value

The Levelling Up White Paper reinforced the central role social value will play going forward in the housing sector's contract award decisions.

This session will explore how social value outcomes can be better articulated, procured and measured to ensure that place-based decision making is at the centre of each contract.

How can the sector make better use of collaboration with neighbouring public-sector buyers to ensure that they don't duplicate efforts or miss a trick?

Chair: Clare Connolly, Fusion21

Danielle Buckley, Wates Residential

Chrissy Galerakis, EQUANS
Lauren Bailey, Ridge & Partners LLP

14:00-14:45

Supporting tenants through the cost of living crisis

With the cost of living crisis showing no sign of ending soon, this session will explore the impact on tenants' lives and how landlords and their partners can work with residents to make a difference.

Learn from practical examples across key areas such as fuel poverty, furniture poverty, youth engagement and health and wellbeing.

Chair: Jo Hannan, Fusion21

Matt Buckham, Sovereign Housing

Sahil Khan, Peabody

Kate Shone, Torus Foundation

15:00-15:45

A focus on repairs services: objectives, priorities and excellent performance

With the landmark Social Housing Regulation Act requiring all landlords to act quickly when repairs are raised (and within soon to be introduced time limits), this session will explore what best practice looks like in a repairs service.

Chair: Gary Stanfield, Fusion21

Roy Mason, Huws Gray
Mandeep Bhogil, Tower Hamlets Community Housing
Yvette Carter, Southern Housing
Thursday 23 November sessions:
Time
Session
Speakers
9:45-10:30

The role of procurement in a high inflation economy

High inflation is a major challenge for housing providers operating in today's economy. While the impact on procurement can be significant, this session will explore the proactive steps that organisations can make to mitigate its effect.

Chair: Steffanie Swift, Fusion21

Lorraine Sawyer, Anchor
Shabber Ahmed, Newlon Housing Trust
Mark Mayler, Selwood Housing

11:00-11:40

How to proactively detect and prevent damp and mould?

This session will explore the strategies that housing associations can use to get ahead of damp and mould and how to cope with increased demand on repairs services.

Chair: Andrew Gray, Fusion21

Mark England, Coastline Housing
Margaret Goddard, Torus
Bernard Cook, Vericon Systems

11:45-12:30

The future of asset management in a changing climate

Efforts to adapt the UK's housing stock to the impacts of changing climate lag behind what is needed to keep residents safe and comfortable, even as these risks grow.

Higher average temperatures, flooding and water scarcity are all factors that will impact existing stock. So how can asset managers make a long term plan to cope and adapt?

Chair: Oliver Mooney, Fusion21

Loreana Padron, ECD Architects
Liz Blackwell, L&Q
AJ Eaton, Bell Group UK

12:45-13:30

The future of building safety and compliance: working smarter with technology

This session will explore the progress that the sector is making with producing a standardised digital golden thread of building safety information for existing and new builds.

Knowing your buildings: How is the sector using digital solutions to collect, store and manage building information? How are RPs securely holding up-to-date information about residents with disabilities that may impact evacuation and sharing with the relevant authorities?


Chair: Phil Woodhead, Fusion21

Varun Soni, Calfordseaden
Kelly Lee, Orbit Group

Tony Cahill, Livv Housing Group

14:00-14:45

Quality data as the foundation of good landlord services

Landlords should be asking themselves if their tenants are living in safe and decent homes. Are they listening to what tenants are saying? And are boards scrutinising the range of data sources being used to gain assurance, so they and their organisation really understand what is happening?

However, long-standing issues with data quality and performance reporting often hold back landlords from achieving this.

Chair: Mark Chadwick, Fusion21

Amramanjari Singh, Southern Housing
Ruth Dent, Believe Housing

Tony Cahill, Livv Housing Group
We also have a dedicated exhibition and coffee area, where you can network with a range of our suppliers and meet our team of procurement and social value specialists.
Suppliers confirmed to date include...
We look forward to seeing you there and discovering what we can achieve together to make a real impact.