New free online resource launched to help those supporting people with mental health needs to access and claim benefits

Fusion21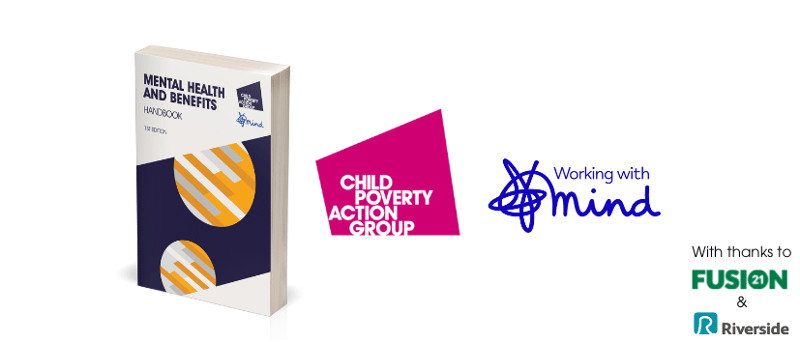 A new free online handbook has been launched to help those supporting and advising people with mental health problems to access and claim benefits.
Created by Child Poverty Action Group (CPAG) in collaboration with mental health charity Mind the Mental Health and Benefits Handbook is a comprehensive guide to benefits for people who have mental health problems.
It provides practical advice and guidance for the different stages of benefit claims and health assessments and the problems that might be encountered during the process.
CPAG and Mind have asked people with lived experience of mental health problems and the benefits system to share their insights, and have used this experience to help inform their guidance.
The resource is aimed at professionals, carers and families who may be supporting someone with mental health problems.
Fusion21's Foundation co-funded the handbook with The Riverside Group and the Northwick Trust.
Jo Hannan, Fusion21 Foundation Manager, said: "This much needed resource follows a CPAG report we funded last year which highlighted the issues people with mental health problems faced when interacting with the universal credit system.
"A webinar to celebrate the report's launch revealed a demand for more information and tools by advisory services, to enable them to further support those who need it most. This free online handbook does that by bringing vital information, advice and examples together in one place.
"As a foundation we fund research to better understand issues relating to health and wellbeing, employment and skills, and financial inclusion and resilience. This is a great example of researching an issue and creating a solution which will help support communities across the country."
The handbook includes an overview of various mental health symptoms and gives guidance about how and when to ask about them and how to give good advice and support.
Alison Garnham, Chief Executive at CPAG said: "People struggling with their mental health need to know they can at least cover their bills but the benefits system can be opaque and overwhelming. Without the right support, vulnerable people can fall through the cracks.
"Our guide offers expert back-up for those who are supporting someone unwell so that they can access the money they are entitled to and live with dignity."
It also provides recommendations and tips for surmounting some of the difficulties that can be encountered when claimants are applying for benefits.
Covering universal credit and benefits for ill health through to challenging decisions, safeguarding, appointees, reasonable adjustments, and recognition of complex needs.
Stephen Buckley, Head of Information at Mind said: "Each year there are hundreds of thousands of claims for disability benefits like personal independence payment, with mental health being the single most common reason for claiming.
"Those benefits mean that people who are unwell can get the security they need to focus on moving forward with their lives, to build connections with other people and to live more independently.
"Mind is proud to have worked with CPAG in the development of this essential resource, and hope that it can play a part in helping those of us with mental health problems get support and respect from the benefits system"
The online handbook will be updated regularly, ensuring the latest information is available to help people understand their rights.