Bespoke Supply Solution Transforms Golding Homes' Repairs Offer in Three-Week Turnaround

Fusion21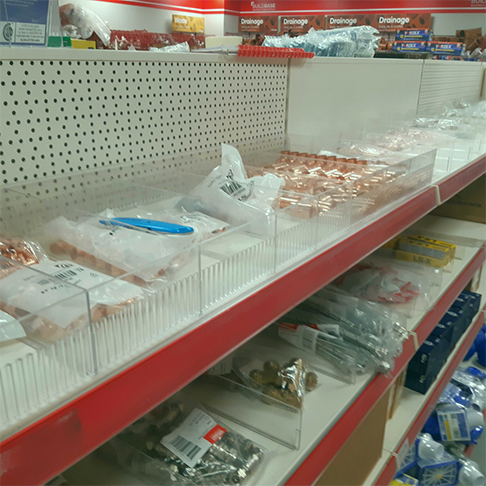 Driven by their vision to deliver Outstanding Services, Great Homes and Proud Communities, and in line with their corporate values, housing association Golding Homes is focusing on how they can make improvements to the repairs and maintenance service they provide to customers.
Discover how Fusion21 helped the organisation to design and implement a bespoke, fully-managed repairs and maintenance service to drive customer satisfaction and significantly reduce costs.
The Member
As the largest social landlord in Maidstone, Golding Homes provides homes and services to more than 21,000 people across Kent and places customer satisfaction at the heart of everything it does.
Golding Homes aims to deliver an outstanding repairs and maintenance service and significant steps are already being taken to ensure this is achieved, as we explain below.
The Brief
Golding Homes wanted to bring the day-to-day management of its repairs and maintenance service - Golding Services in-house from its existing contractor.
Achieving this required designing and implementing:
A dedicated branch service to supply materials exclusively for Golding Homes use
An advanced stock storage system that can manage and control all processes
The housing association's ultimate aim was to create a more bespoke and efficient service to improve customer satisfaction and have a larger impact on the people it serves.
The Challenge
Golding Homes required the set-up of its new materials and managed supply solution at very short notice before its existing contract came to an end.
Jeff Edginton, Materials Solution Manager at Fusion21, explains how: "Time was of the essence for Golding Homes during this project. The change in services not only had a direct impact on the workforce but the project required the swift mobilisation of three capable merchants working in unison to deliver a commercially viable and bespoke supply solution."
Keep reading to learn how we tackled this short time frame without sacrificing the quality of our service.
The Team
As a leading procurement framework service provider with a wealth of experience in the housing sector, Golding Homes chose Fusion21 to support them.
We had the perfect person for the job. Jeff Edginton, Materials Solutions Manager at Fusion21, has more than 40 years' experience in materials procurement and supply chain management, which has seen him work in a number of senior roles developing solutions on both a national and global scale.
Jeff also worked closely with three experienced framework appointed suppliers to complete the project to the highest of standards. Keep reading to learn more about them.
The Approach
The project started with an in-depth discussion between Fusion21 and the Golding Homes team. We spent quality time understanding the organisation's unique needs so we could match them with the right technical expert.
From there, the housing association accessed Fusion21's Materials Supply and Associated Services Framework, with Jeff supporting Golding Homes to find the best suppliers for the project.
Our OJEU compliant Materials Supply and Associated Services Framework is worth up to £500 Million and provides access to a prequalified and highly capable supply chain.
Having this high-quality framework with trusted suppliers to hand was instrumental in helping Jeff meet the project's tight schedule.
Jeff also offered his recommendations to make the decision-making process easier. Using our complaint direct award process, the following suppliers were selected with a collective contract value of more than £4million:
In particular, Grafton Buildbase was a huge help in designing a bespoke managed supply solution. Roy Mason, Sales Director at Buildbase Supply, elaborates:
"We pooled our team, knowledge and resources into ensuring the project was a success - from shaping the branch service infrastructure and setting up a stock control mechanism and electronic invoicing process to picking, packing and delivering bespoke materials suited to the area of trade expertise belonging to individual Golding Services operatives."
We also assisted Golding Homes by:
Setting up management information reporting systems

- to ensure the ongoing monitoring of cost efficiencies and key performance indicators (KPIs)
Thanks to Jeff and our suppliers' hard work, the project was completed much quicker than the average timescales of 6 -12 weeks, without compromising on the quality of service provided. Let's take a look at the many ways Golding Homes benefitted from our support.
The Results
In just three weeks we helped Golding Homes create a dedicated managed stores facility that has transformed its repairs and maintenance service.
This included an advanced stock system that now manages and controls all processes.
We also helped the housing association implement an information reporting system used to inform future planned work programmes.
As a result, the business has experienced:
Reduced waste management costs
Reduced reliance on sub-contractors
Improved spend visibility and cost control
Reduced need for repairs
Reduced wait times for materials
Minimised fuel costs thanks to productivity-boosting technology
We also helped Golding Homes maximise customer satisfaction by increasing first-time fix repairs. This was achieved through:
Better stock availability
Accurate stock profiling
Greater van stock accessibility
Plus, they now have the ability to recruit the most suitably qualified tradesperson for the job, completing repairs on their first visit to a customer's home.
The Feedback
We got in touch with Golding Homes to ask what the team thought about working with us. Here's what Chris Wood, Interim Transition Director at Golding Homes said:
"We are delighted that the day-to-day management of our repairs and maintenance service is now under one roof with a bespoke managed store and supply solution that has been tailored to suit our needs. Both our customers and the organisation are already seeing the rewards.
"The speed to market and account handling has been impressive, with Fusion21's technical expertise, attention to detail and access to a quality supply chain making this transition as seamless as possible."
Are you a housing association that needs help delivering a better service offering? We can help you achieve your goals. To find out more, call us on 0845 308 2321 or email us at info@fusion21.co.uk.